zoom
Contemporary Bathroom Design with Sauna
When you hear the term 'Contemporary Bathroom', you might think cold, sterile and uninviting, but I can guarantee you that with our latest project, this is not the case at all.
My clients and I have been working together over the past year on their 3000 square foot modern basement renovation just outside my home town of Burlington Ontario and I'm excited to say that it is now completed!  I wanted to share with you their incredible finished bathroom that also has a sauna, where the feel is relaxing and 'Zen like' with unexpected suprises and finishes that work wonderfully together.
Here are the 3D renderings of the very first idea I had for laying out this 10′ x 14′ space.
The toilet is concealed from view, just behind that narrow wall you see to the right (above) and the shower with sauna is around the corner to the left of the bathroom vanity.
This interior design concept sees you walking into the glass shower, through another glass door (not shown in rendering) into the sauna.  My clients referred to this as a 'peek-a-boo' suprise that they just loved!
Our inspiration for the palette began with this silky smooth textured wavy wall tile which we wanted to use as the backdrop for the wall that housed the sexy floating vanity. You can also see the floor tile  (dark brown) that was our selection for the heated flooring. I highly recommend heated flooring for a basement bathroom by the way, you won't regret the investment!
We decided to keep the walls neutral and use the same colour throughout the entire basement – Natural Cream by BM, custom the cabinetry with Barnboard by BM and then use a lovely teal for the decorative accents.
Here is the final result of this carefully curated interior bathroom design…
The sleek, chrome faucet is possibly one of my favourite things in this bathroom design.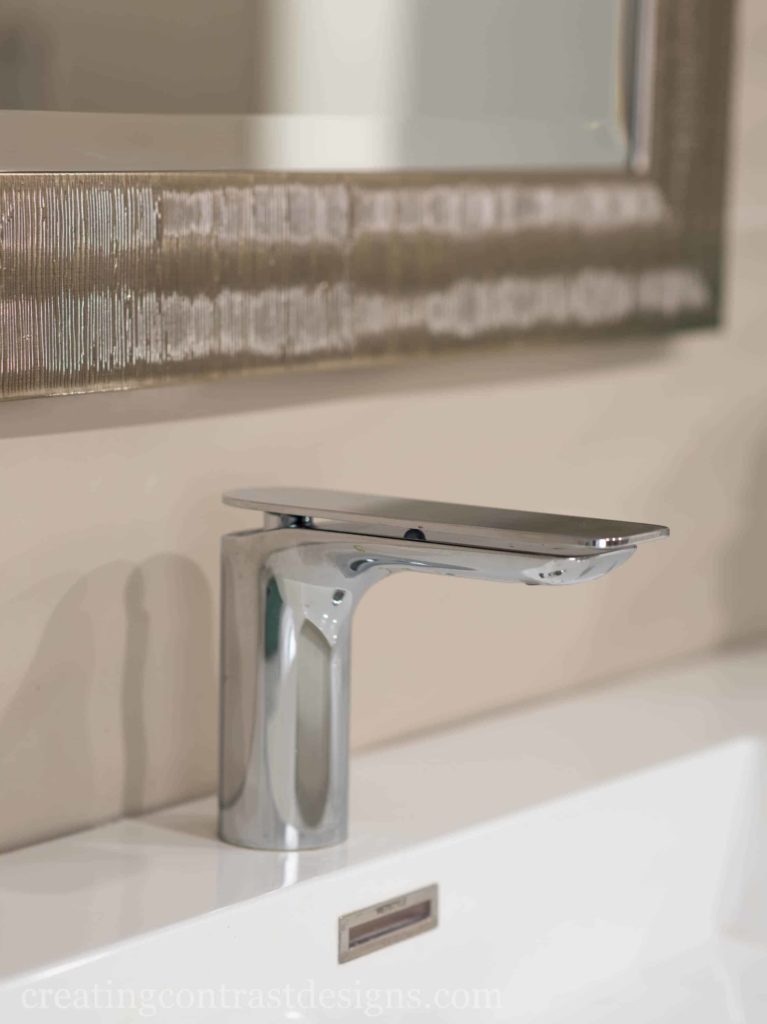 We all love to see a bit of sparkle too right?  Check out the crackled glass pendants that cast a beautiful shadow accentuating the wavy wall tiles.
This bathroom also has loads of storage (probably more than my own kitchen…well, not far off!)  The beautiful custom cabinetry has adjustable shelving within and are full height cabinetry doors with modern, chrome pulls.  The custom colour, as mentioned previously, is Barnboard by BM and is just slightly deeper in tone than the wall tile and therefore, compliments it beautifully.
Now it's time for the shower and peek a boo suprise!  The shower also has a linear drain, curb and chrome fixtures.  There is a rainfall showerhead that you cannot see, but it's great for just after the sauna!
My clients love their new bathroom and sauna, it really is reflective of the other high end and custom finishes in their massive basement.  What is your favourite design element in this bathroom design?
Check out my video of this gorgeous room on my youtube channel by clicking on the picture below.
If you are planning an Interior Decorating project and seeking help from a Design Professional who will help you to Love Where You Live, please contact me here and let's talk about your renovation project.
To see another fabulous bathroom design we created for clients that has been published twice, please click here.  Thanks for stopping by!